What is the BEST Sub-Ohm Kit?
Here's another question we get asked a lot - As with our previous blog this is all a matter of taste. We base our opinion on the following:
Battery life
Max Power Output
Size
Flavour
As with everything we all have our own opinions, but largely the idea of the BEST sub-oh. kit is pretty black and white (at the time of writing).
With that said, here's some firm favourites here at The Ace of Vapez (in no particular order).
As Uncle Ben once said; "With great power comes great responsibility" - this applies to pretty much every device in this list, as 99% of all sub-ohm devices have the capacity to run wattages so high, they would insta-burn your coils out. Obviously there is a slight learning curve to this, but most manufacturers are on hand to advise the wattage rating of their coils (some even add a 'BEST BETWEEN' rating, which is nice!)
The Geekvape Aegis X kit stands head and shoulders above the rest for us - primarily because the Aegis Legend was so good, they couldn't really go wrong with this one! 
Geekvape have been making somethingproof devices for a while now, refining their craft with each new model, and with the Aegis X not only do you have IP67 Water/Dust/Shockproofing, you have this amazing (and HUGE) 2.4" Oled colour screen!
This is definitely one of the best, if not THE best subohm kit ever made (in our humble opinion).
There was a time when Smok was a taboo word in the industry. We've heard it all from "Smok don't care about vaping any more" to "The worst devices I've ever used"..
Don't let that put you off, as Smok have returned to form (and have for a while now, since the Smok R-Kiss to be honest) - The P3 is an all new take on the popular MAG series. Featuring the rugged 'proof-ness' you see in vape kits now, this boasts the same IP67 rating you see on the Geekvape Aegis X kit. 
Why would I want this? We hear you ask. Well - the Smok Mag P3 is by far the comfiest device we've ever held. The 'grip' portion of this device features a rubber-esque finish, meaning not only is this device moulded to your hand, it STAYS there.
we're a little disappointed the quick release feature to drop your batteries out of the device is gone, as that was ever-so-satisfying, however we do understand that button was a little cocky, and customers batteries would drop out of their mod without warning, so we're all for losing a feature for the sake of safety.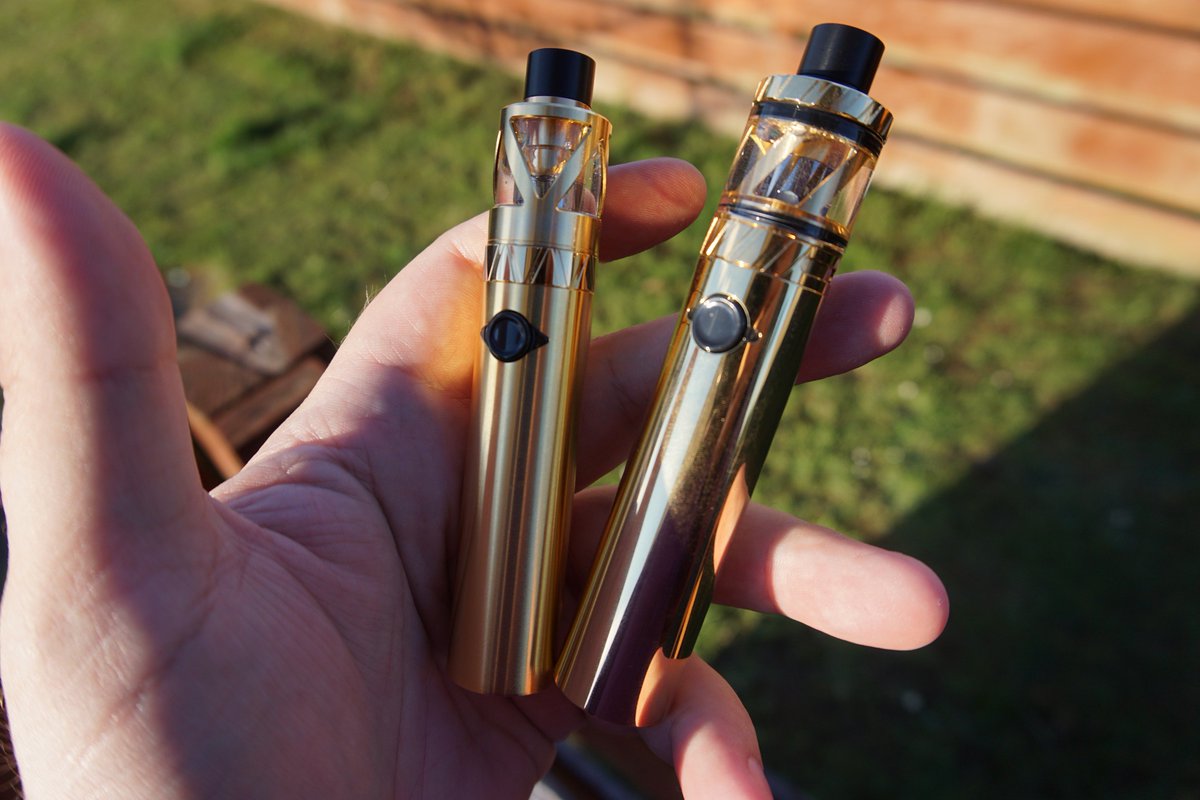 Here we have the only built in battery device on this list. Why isn't there more of these about? you may ask. We believe the only reason for this is that with a Sub-Ohm device, there's a lot of power being drawn here, and any built in battery device (unless one was to be made with a car battery attached) just isn't really up to snuff when it comes to battery life. It's a million times easier to replace them, as opposed to charging them in the device.
With that said, you may think we're not keen on the Uwell Whirl 20 - you would be wrong! 
This is a stunning pen-style device, featuring NO adjustable wattage (meaning whatever coil you use will automatically adjust your wattage) - use a lower rated coil, you get higher wattage! User a higher one, it will reduce!
This kind of 'no fuss' sub-ohming is fine by us, and whilst it may seem complicated on the outset this couldn't be further from the truth when it comes to real-life use.
WILD CARD MENTIONS:
This device (whilst as cute and diddy it is) definitely needs an evaluation before purchasing. 
With this being a built in battery device, and coming with a sub-ohm tank, you may have to decide "do I chain vape?" If the answer is yes, you may not want this device. When run on 50w+, your battery life will be drastically reduced.
If you either don't chain vape, or run your sub-ohming at less than 40w, this device is a dead set!
This device is possibly one of the most misleadingly designed sub-ohm devices we've ever seen.
Power and usability aside, this device appears in images to be a standard pen sized device - we can assure you this is not! It is larger than you may think.
Got big hands? You'll love this then.
Powered by either an 18650/20700/21700 battery (we heavily reccomend popping a 21700 in here) - this is a great device to slip into your pocket and if your battery runs low, slap a freshie in there!